"Once the travel bug bites there is no known antidote, and I know that I shall be happily infected until the end of my life" ― Michael Palin
On the other side of the world, in the country of Nepal and in the rain shadow of the great Himalayan range, lies a land long forbidden to foreigners, a secret world untouched for centuries.

It's an ancient Buddhist kingdom on the high Tibetan plateau.

It is known by its local name as The Land of Lo and the locals are called Lo Bas.

But a European mapmaker misspelled the name of the capital city, Lo Monthang, and called this place Mustang (pronounced Moos-tahng).

The last surviving relics of an ancient world are found here; the Buddhist monasteries of old Tibet.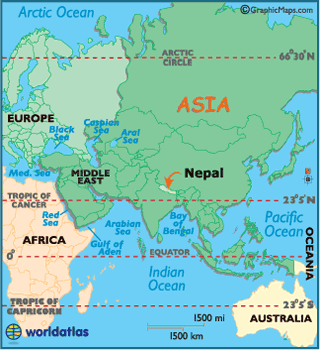 This is the one of the few places in the world where Tibetan Buddhism is practiced in its original setting.

Because Mustang is in Nepal, the Chinese didn't come here and destroy the temples and kill the priests, as they did in Tibet.

So in Mustang you have Buddhist temples that are six or seven hundred years old with original fresco Buddhist art.

Painted at the same time as Michelangelo and Leonardo, some of these paintings are considered masterpieces and are comparable to the great Italian frescos of that era.
From Brown University's website on Tibetan wall paintings
…
"The Mustang paintings are of inestimable value and significance; among the world's finest Buddhist wall paintings, they are rare surviving exemplars of the classical period of Tibetan Buddhist art. Following the Chinese invasion of Tibet and during the subsequent Cultural Revolution, Tibet's future was subjected to massive and brutal assault. The destruction of temples and
monasteries was wholesale; from one end of Tibet's vast expanse to the other, sacred statues were smashed, murals defaced or obliterated, and entire monasteries razed, in a deliberate attempt to destroy an entire culture. Fortunately, the Tibetan cultural world and its sphere of influence extends beyond the borders of Tibet, into Bhutan and Sikkim, bordering regions of Nepal and India, and Mongolia. Although it is now part of Nepal, Mustang was formerly a small, independent Tibetan kingdom; it appears on the map as a thumb-shaped protrusion, breaking through the Himalayan wall into Tibet."
Until 1993, foreigners were not allowed into Mustang.

This had to do with the Tibetan invasion, wars and just the fact that Nepal didn't want foreigners there.

The exception to this was our old friend, Michel Piessel, who wrote the book about Quintana Roo that we talked about in our Yucatan blog last fall.

Piessel spent a few months here in 1963 and wrote about it in a wonderful book, "Mustang, The Forbidden Kingdom".

Well, Mustang isn't forbidden anymore, but very few tourists come here.

Most trekkers in Nepal go to the Everest Base Camp or the Annapurna Circuit.

But you have to get a special permit to go to Mustang and that, along with the fact that it's a high desert and not the usual Himalayan scenery, puts a lot of trekkers off.

So much the better for us!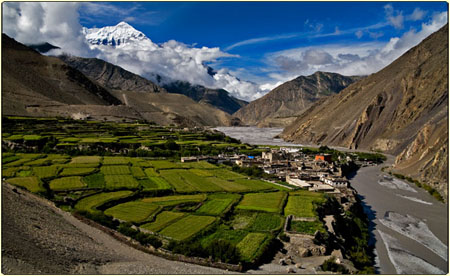 About 5 years ago, Amy and I saw a program about Mustang on PBS and put it down as a place we would like to go to.

At the time, there was no road in Mustang and the only way you could get through this area was to walk, ride a horse or fly a helicopter.

But now, the Chinese are building a road that may be finished in a few years.

This road will connect China, which lies just north of Mustang, with Kathmandu.

The old ways of Mustang are sure to disappear when the road is finished, so we figured now is the time to go.
Being in the rain shadow of the Himalaya, Mustang gets very little rain and is a high desert.

We will be trekking between 10,000 and 14,000 feet above sea level.

There is very little water…a river runs though Mustang that consists of runoff from glaciers way up in the mountains.

We will have a couple of guides and horses will carry our gear.

Showers and WiFi will probably be non existent.

Well, if everyone smells bad it's probably not that big a deal, right?
Amy's cousin, Nance, and Nance's daughter, Trina, decided to join us and we thought that we would have a joyous time with the four of us on a guided 15 day trek.

We arranged the trek last fall and all was set up.
Then, as many of you know, Amy came down with a rare neurological disorder, called Myasthenia Gravis.

In the first year or two of contracting this disease, a person can't go anywhere where there is no modern medicine, as it is possible that you could need a hospital at any time.

So after much figuring out what the heck to do, we decided that I would go ahead on this great journey and Amy would spend the time home with friends.
So off I go, traveling without my darling Amy for the first time since we have known each other.

I will meet Nance and Trina in Kathmandu, as I am flying west through China, and they are flying east through Dubai.
The journey will last about 20 days.

A couple of days in Kathmandu, then on to Pokhra and then to the starting point of the trek, Jomson.

From Jomson, we will trek for five days up to Lo Monthang, stay a day there, and then trek back to Jomson.

On the way, we will be staying in small villages, at local tea houses.

We will visit ancient temples, walk through the deepest canyon in the world, see some of the most amazing landscape anywhere and just immerse ourselves in a totally different and exotic place.